Spring Quiche with Asparagus, Broccoli and Peas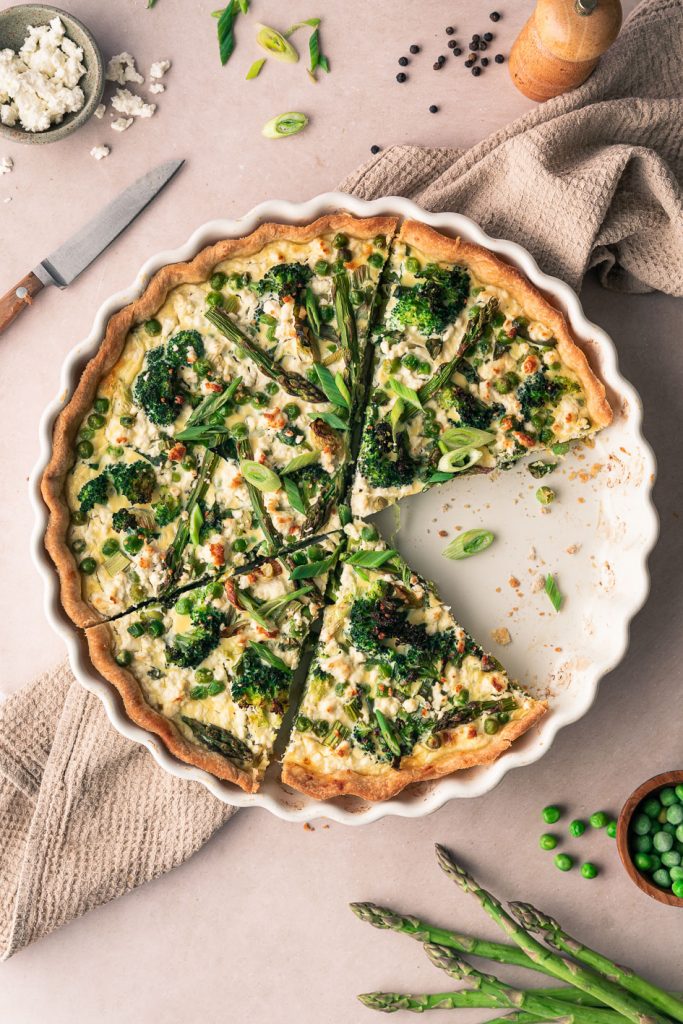 This savory dish is perfect for a light dinner, a quick lunch, or even a brunch such as an Easter brunch. The combination of green asparagus, broccoli and the sweetness of peas is not only delicious but also packed with vitamins!
Whether you're a seasoned cook or a beginner in the kitchen, this spring vegetable quiche recipe is sure to please your taste buds and your guests alike. 
What is a quiche?
A quiche is a savory dish that originated in French cuisine. The most famous quiche is Quiche Lorraine, a quiche made with ham, cheese and cream.
A quiche consists of a pastry crust filled with a mixture of eggs, cream, and various ingredients such as vegetables, ham, cheese, and herbs.
The filling is then baked in the oven until it sets and turns golden brown. The result is a delicious and versatile dish that can be served for breakfast, brunch, lunch, or dinner.
Why should you try this Spring Quiche?
Healthy and balanced: This quiche contains a lot of vegetables like asparagus, broccoli and peas that are full of vitamins. In addition, the eggs bring protein to this dish.
Versatile: You can vary this spring quiche recipe with other spring vegetables such as spinach, carrots,
Make in advance: What I love about quiche is that you can perfectly make it in advance, which makes it a great option for busy weekdays or when you have guests coming over.
List of ingredients
To make this quiche, you need only need a few ingredients that are really easy to find!
Shortcrust pastry: I recommend making your own quiche crust (click here to read my basic recipe for quiche crust). This quiche is also delicious with a puff pastry. You can of course use a store-bought crust to save some time.
Spring vegetables: I choose broccoli, green asparagus and peas. You can add other spring veggies such as carrots, cauliflower, spinach or fennel. You can use fresh vegetables or frozen. I used frozen peas for example to save some time.
Spring onions: I like to add spring onion finelly cut with the vegetables and also fresh on top after baking. You can replace spring onions with one red or yellow onion, in this dice onion and add it in full in the quiche, don't add it on top of the quiche.
Fresh herbs: I like to add wild garlic because it's only available in spring and has an incredible garlic and pnchy taste. You can replace wild garlic with other fresh herbs such as dill, parsley or coriander.
Eggs: The base of the quiche filling. I choose medium size eggs
Cream: I used a liquid cream with a fat content of 30 % . You can use any type of cream such as heavy cream, sour cream or crème fraiche. For a lighter version, you can replace half of the cream with milk.
Feta: The creaminess of the feta goes super well with the green spring vegetables. It give the quiche more flavor. You can replace it with other cheeses such a grated cheese (gouda, mozzarella) or fresh goat cheese.
How to make this Spring Quiche ?
Prepare the shortcrust pastry: If you are making your own shortcrust pastry, just combine flour, butter, water and salt. Form a ball, let it rest in the fridge. For more details and tips about how to make a shortcrust pastry, have a look at my recipe.
Blind baking: Roll out the dough, cover it with parchment paper and add dry beans on top. Blind bake it in the oven for 10 minutes. It will prevent the quiche bottom to be soggy.
Spring vegetables: You don't need to do much prep work other than cutting the vegetables into small pieces that will fit in the quiche pan. I recommend blanching the broccoli to brighten its color. This step is optional, as the broccoli will be cooked through anyway.
Prepare the egg filling: Whisk the eggs with the cream. It's at this point that I add fresh herbs, in this case wild garlic, but other fresh herbs work too.
Assemble: Add the vegetables on the bottom of the pre-bake crust, the crumbled feta and the egg filling.
Bake: Bake the quiche in the oven for 30-35 minutes (or until the filling is set and the crust is golden brown.
Variation ideas
There are many ways to vary this spring quiche recipe with asparagus, broccoli and peas and make it your own. Here are a few ideas:
Change up the veggies: While asparagus, broccoli, and peas are a great combination for this quiche, you can use any combination of veggies that you like. Try adding spinach, kale, zucchini, or bell peppers for a different flavor and texture.
Use a different crust: While a buttery, flaky short crust pastry is delicious for this quiche, you can also use a different type of crust to change things up. Try a whole wheat crust, a gluten-free crust, or even a crustless version in small muffin tins.
Experiment with seasonings: Don't be afraid to add different herbs and spices to the filling for extra flavor. Try adding some fresh thyme, rosemary, or dill, or a pinch of cayenne pepper for some heat.
What to serve with spring quiche ?
This spring quiche makes a delicious and satisfying meal on its own, but if you want to round out the meal, there are many sides and accompaniments that go well with it. Here are a few ideas:
Frequently Asked Questions
Can quiche be made ahead of time?
Yes, quiche can be made ahead of time and stored in the refrigerator or freezer until ready to be served. This makes quiche a convenient and easy meal option for busy weekdays or for entertaining guests.
You can bake the quiche, let it cool, and then store it in the fridge for up to 3 days or in the freezer for up to 3 months. 
Can quiche be frozen?
Yes, you can absolutely freeze a quiche! To freeze, let the quiche cool completely, wrap it tightly in plastic wrap or store it in an airtight container, and store it in the freezer for up to 3 months. 
To reheat, let the quiche thaw in the fridge overnight or in the microwave and then bake in the oven at 350°F (175°C) until heated through, about 10-15 minutes to make the crust crips again.
How to reheat a quiche?
To reheat a quiche, preheat the oven to 175°C(350 °F), place the quiche on a baking sheet cover with parchment paper, and bake for about 10-15 minutes, or until warmed through. I recommend to cover it with foil to avoid the quiche to turn black. 
Alternatively, you can reheat quiche in the microwave for a quicker option, but the crust may become soggy. My tip if you choose this quick option is to still place it afterwards 5 minutes under the broiler of your oven or in the air fryer. 
How do I prevent a soggy crust when making quiche?
To prevent a soggy crust, I recommend to blind bake the crust before adding the filling. This means partially baking the crust in the oven (see above) before adding the filling to help it firm up and form a barrier against the moisture from the filling. You can also brush the crust with egg wash to create an additional layer of protection.
Can I eat this quiche cold?
Yes, you can serve this quiche cold. It's a great option for picnics or lunchboxes. If you serve this quiche cold, be sure to keep it refrigerated and at a safe temperature to avoid any risk of bacteria.
More quiche recipes
Don't hesitate to leave me a comment, it always makes me very happy!
Follow me on Instagram, Facebook or TikTok to take a look behind the scenes of my blog :
Spring Quiche with Asparagus, Broccoli and Peas
Click on the stars to rate!
Spring is here, and it's time to celebrate all those delicious greens that come with the season! My favorite way to celebrate the arrival of spring is this delicious and nutritious quiche filled with asparagus, broccoli, and peas. 
Print Recipe
Ingredients
For the shortcrust pastry
250

g

flour

125

g

butter

60-80

ml

water

1

pinch

of salt
For the quiche
1

broccoli

½

bunch of

green asparagus

1

cup

of frozen peas

150 g

3

spring onions

1

bunch

wild garlic

or other fresh herbs

5

eggs

250

ml

cream

200

g

feta

1 block

Salt

Black pepper
Instructions
Preheat the oven to 180 °C (350°F).

In a large bowl, combine the flour, butter, water, and salt to make the shortcrust pastry. Mix until it forms a dough. Place the dough in an cling film and let it rest in the fridge for 15 minutes.

Roll out the dough on a lightly floured surface and transfer it to a 9-inch (23cm) tart tin. Blind bake the crust for 10 minutes in the oven.

Cut the broccoli in florets. Cut off the hard ends of the asparagus. Cut the stalks in thin pieces and leaves the heads intact. Cut the spring onions in thin slices.

Blanch the broccoli in boiling water for 3 minutes, then drain and set aside.

In a small bowl, whisk together the eggs, heavy cream, a good pinch of salt, and a few turns of black pepper.

Add the blanched broccoli, asparagus, frozen peas, and two-thirds of the sliced spring onions on the bottom of the crust.

Sprinkle the crumbled feta cheese on top of the vegetables.

Pour the egg and cream mixture over the vegetables.

Bake the quiche in the oven for 30-35 minutes or until the filling is set and the crust is golden brown.

Remove the quiche from the oven and let it cool for a few minutes. Sprinkle the remaining sliced spring onions on top of the quiche and serve warm.
Nutrition
Calories:
674
kcal
Carbohydrates:
53
g
Protein:
21
g
Fat:
44
g
Saturated Fat:
26
g
Polyunsaturated Fat:
3
g
Monounsaturated Fat:
11
g
Trans Fat:
1
g
Cholesterol:
258
mg
Sodium:
625
mg
Potassium:
557
mg
Fiber:
6
g
Sugar:
5
g
Vitamin A:
2352
IU
Vitamin C:
109
mg
Calcium:
324
mg
Iron:
4
mg